Checking Oil Levels
If the oil is too high or too low, it can cause trouble for your engine. To check the oil, park on level ground and wait until the engine has cooled down after driving, then locate the dipstick. Pull it out and wipe it clean, then push it all the way back in until the top of it is seated properly in the dip tube again. Pause a moment then pull it out once more. Check the level of the oil. If it's between the high and low marks, you're fine. Checking your oil before heading out on road trips with your family, we know we do!
Changing Oil And Oil Filters
Also know that most owner's manuals will tell you to change the oil every 7,500 miles but specialists suggest every 3,000 miles or 3 months. Since Oil is the liquid that keeps a car running smoothly by keeping engine parts running clean and cool making sure it is still usable is very important. A good deal of expert mechanics after years of experience have agreed that changing the oil filter with every oil change is the best way to keep your car running optimally. And if you ever need a change give us a call or fill out the online form
Here
and our prestigious technicians will happily change your oil for you!
Tires
Did you know keeping your tires properly inflated can:
Make your car safer by increasing handling control
For every 1 PSI (pound per square inch) in air pressure in your tires can lower your gas mileage by 0.3%
Optimizing PSI can lead to an around 3% better fuel economy benefit (Around $0.11 a gallon in savings)
The proper tire pressure specified for your vehicle is usually on a sticker in the driver's side door jamb or the glove box and in your owner's manual. Do not use the maximum pressure printed on the tire's sidewall.

WARNING
: Check Tire Pressure often when it's cold outside in order to maintain better handling
Rotating Tires
Rotating tires will lead to an increase in grip, which provides better handling, and save you money.
You can do this at home, switch the tires in the pattern shown at right that matches your car's type.

Of course if you need help feel free to come into our esteemed Service Center! We're glad to help.
Tire Wear
A quick trick to knowing if your tires are worn and need replacing, take a penny and stick in the crack of the tread, with Lincoln's face pointed towards you. Most of his head should be hidden.
Also check for wear, if the rubber has been worn down, and if your are still uncertain give us call or stop by!

Checking Your Engine
Get your engine belts checked by mechanics every 25,000 miles and decide to replace them at 50,000 miles.
If you plan on checking the belts yourself, when looking, watch for rips, tears, and worn rubber to determine if it needs replacing, get help whenever possible.
If the check engine light comes on get it checked out

ASAP

! The last thing you need is for your car to have a serious and expensive malfunction.

Coolant Level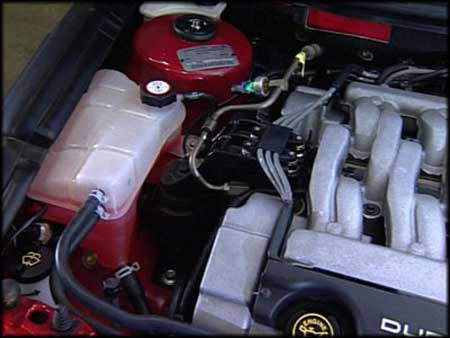 Your coolant fluid is one more liquid your engine must have to operate all engines differ but by checking the owner's manual you will be able to find where the coolant reservoir resides. Its normally on one side of your engine bay or the other. It is a white semi-transparent bottle. Once your engine is cool look at the reservoir. The outside of the container should have low and high markings on it and the coolant level should be between the two. Do
NOT
take off the radiator cap if the coolant is still hot, if it is hot then it's under pressure and the pressure release will
BURN
you.